;
Welcome to Darteo's On Line Portfolio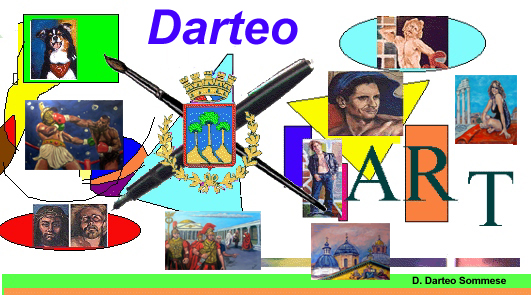 This site is designed to be a directory to the Paintings, Stories, and Musings of artist, writer, and educator, D. "Darteo" Sommese
An artist is compelled to work. Many of the greatest painters were writers as well. You can paint with words as well as a brush. This site will direct you to what I write and what I paint. This is my method of sharing my work with you. If you would like to know more about me, my biography can be accessed by scrolling down this page. Turn the pages. Welcome to my world !

Tips on Navigation: The links on each page will direct you around that particular site. Clicking on the underlined text rather than the boxes with be the surest way to get anywhere. Use your back button to return to this page. Most of all, Welcome! .....


---
Fresh Paint: Click on the word 'GO' for photos of my paintings. GO!

Wet Paint: Click on the words THE SAATCHI GALLERY (highlighted in blue) to see my latest work in the SAATCHI on-line gallery. THE SAATCHI GALLERY!